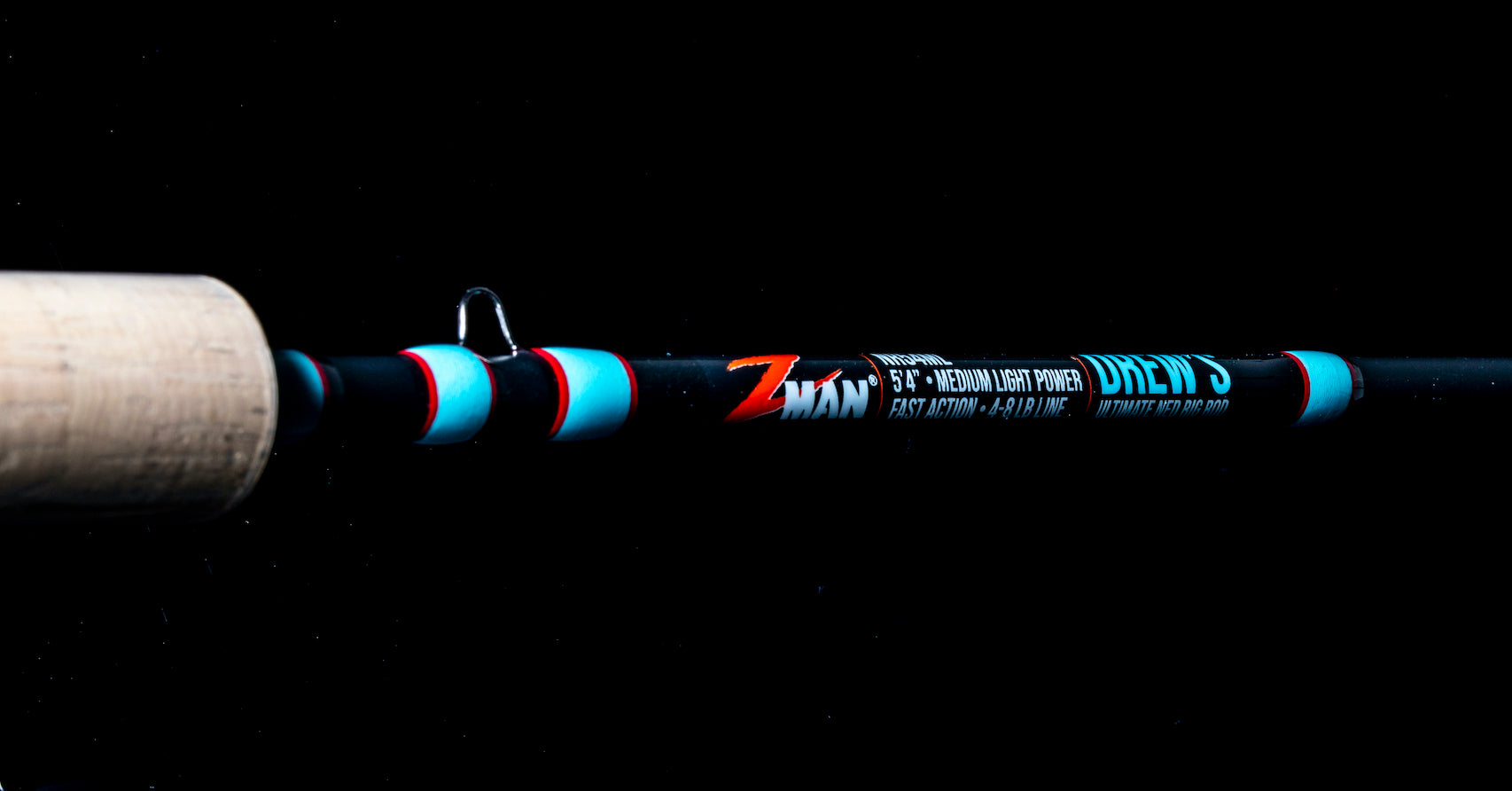 A Conversation with Ned & Drew
Finesse fishing legends explore Z-Man's® new Drew's Ultimate Ned Rig Rods™, discuss bite detection and the "joy" factor
Ladson, SC (September 12, 2023) – Before and after local fishing forays, circa the 1960s, a cadre of exceptional Midwestern anglers gathered to shoot the breeze down at Ray Fincke's old Kansas City tackle shop. Fincke's resembled a lot of other family-owned baitshops of the time—truckloads of lures, rods, livebait and other angling essentials all crammed into a cozy little space. Imagine the good-natured razzing, the exchange of breakthrough angling ideas that must have passed, as Ned Kehde, Chuck Woods, Guido Hibdon, Drew Reese and other architects of Midwest finesse (aka Ned rig fishing) sipped coffee and spent hard-earned dollars on the latest and greatest tackle.

A generation later, the legendary Ned and Drew have been joined by thousands of their closest friends—successful Ned rig fans from all over the planet. To this day, they continue innovating fish-catching products (Reese created several celebrated TRD™ finesse baits.) And now, in concert with Z-Man®, Reese has perfected Drew's Ultimate Ned Rig Rods—the first true-to-technique tools built with the highest-grade blanks, components and rod-building wizardry available.

Fist bumps to the original heroes of Midwest finesse style angling—and in celebration of its longtime friendship with these great anglers— Z-Man has merged the past and future of Ned rigging into a singular series of light-line, finesse lure spinning rods. Designed by Reese himself, Drew's Ultimate Ned Rig Rods merge the original art of Midwest finesse with impeccable rod-building brilliance.

Legends and lifelong friends Drew Reese (L) and Ned Kehde test rod prototypes.

When Kehde introduced his friend Drew Reese to the durability, lifelike buoyancy and fish-catching prowess of Z-Man ElaZtech baits, Reese—a talented tournament angler and lure designer—instantly recognized their prodigious potential for finesse applications. Impassioned pleas by Reese to convince Z-Man of these previously unattainable qualities eventually resulted in several now-classic finesse baits—all naturally buoyant, super soft and impossibly durable. While Kehde helped change the fortunes of weekend warriors and tournament anglers via mainstream angling media, Reese was quietly working behind the scenes to help produce the baits that would soon attain worldwide acclaim.

The final, critical element in the finesse equation, Reese recently perfected Drew's Ultimate Ned Rig Rods—an immaculate, light-line, finesse rod series that gives anglers the definitive Ned rig experience. If the trend in fishing rods has forever focused on extreme lengths and excessive accoutrements hanging on blanks, Drew's Rods embrace a minimalist style—in 5'4" and 5'10" lengths— that conveys incomparable bite-detection.

What follows is a recent conversation between two angling legends, as they reflect on the history and rewards of light line, finesse baits and Z-Man's transformative new fishing rods.
NED: Well, my friend, you've been there from the humble beginnings of the method we call Midwest Finesse. It's been and continues to be a fun, fascinating ride.

DREW: No doubt, I have been blessed to receive tutoring from many great anglers.

It started at the age of 13, working for Ray Fincke at Fincke's Kansas City tackle shop. Here, I met and soon began fishing with the legendary Chuck Woods, inventor of the Beetle and Beetle Spin. My work at Fincke's also led to an introduction to Virgil Ward, who according to a recent article in Bassmaster magazine, twice defeated the acclaimed "best tournament fisherman" at the 1962 World Series of Sport Fishing and the 1964 National Championship of Fresh Water Fishing.

I fished with Virgil several times and worked for three years at Bass Buster Lure Company for Virgil's son Bill Ward, who qualified for seven Bassmaster Classics. I was encouraged by Bill to fish the Bassmaster tournaments and qualified for the first ever Bassmaster Classic in 1971. At my first tournament, I spent a couple of hours in Bill Dance's cabin, who tutored me on maps and structure fishing. I became friends with and fished with Roland Martin, Tom Mann, Bobby Murray and many other angling luminaries. All these anglers willingly shared information and thoughts on fishing. I fished my last tournament at Kissimmee, Florida, and took seventh place.

NED: Why did you stop fishing tournaments?

DREW: I love to fish but found I really didn't enjoy the public part of tournament fishing. I would rather catch 50 to 100 bass per day than five big ones. I feel the majority of anglers would prefer to catch a lot of fish rather than fish a tournament. That is why I originally approached Z-Man with ideas on a new series of versatile finesse baits.

NED: I wonder if most folks realize you designed the first true finesse baits made of ElaZtech®?

DREW: I have kept daily fishing logs for 25 years, and my catch rate has almost tripled by using the lures I designed for Z-Man. These are the Finesse TRD™, Hula StickZ™, TRD TicklerZ™ and the Finesse ShroomZ™ heads. I had to repeatedly beg Z-Man to manufacture them because I wanted to fish with them personally. Please understand, I do not work for Z-Man, nor have I received any money from Z-Man.
Ned rig pioneer Drew Reese contends shorter, lighter rods provide next-level bite detection.
NED: You've faced some real challenges the past few years.
DREW: I am a recent cancer survivor, and according to medical professionals, I came within 12 to 36 hours of dying. I have fished with light line for 63 years, and I fought to survive this cancer ordeal in order to pass the things I learned on to anyone who wants to catch a lot of fish. I feel this allows me to pay it forward for all the others that went out of their way to help me!
Beyond the finesse baits, jigs and light line, these two rods are the final items that make fishing fun for experts and novices alike!

NED: Please explain to folks how and why the new Drew's Ultimate Finesse Rods came into being.

DREW: Well, it probably all started about two and half years ago. I had just broken one of my two Loomis SJ 700 rods. I found a used one on eBay, and it sold for over $300. Two more have been sold for over $200 apiece.
That started my on a quest to develop a blank to replace it. But there was not a bass rod I could find under six feet in length. Most were between 6-1/2 and 7-1/2 feet long. As Bill Ward of Warsaw, Missouri, recently told me: "Fishing with those long rods after fishing with a Z-Man Drew's Rod is like fishing with a 2 x 4!"
It is important to note that the five-foot, four-inch Drew's Rod weighs 1.75 ounces, and the five-foot, 10-inch one weighs 2.2 ounces—two of the lightest rods in existence.

NED: What have been some of your early impressions of these rods and their benefits?

DREW: You, Bill Ward, and I have been fishing light spinning equipment for a total of about 200 years, and we all prefer the many advantages of shorter rods. The three of us have been using the prototypes of Z-Man's Drew's Rod for about two years, and they have become the favorites for all three of us. The five-foot, four-inch version has become our favorite one of the two!
My first observation is that these rods are not a niche item. If an angler spends a little time and effort with these rods, they will find them to drastically increase the number of fish they catch per hour, and many of them will be large fish. Between the three of us, we have landed several five-pound smallmouth bass, a seven-pound largemouth, numerous large drum that weighed up to 16 pounds, an eight-pound walleye, a 13-pound northern pike, a 23-pound lake trout, and a 25-pound flathead catfish. And even as I have been dealing with severe health issues, I have been able to catch an average of eight-plus fish an hour.
These rods are part of a Ned rig system that enhances the fishing experience. In short, these rods are not toys!
NED: The Tennessee handle is certainly a throwback and a departure from most rods today. Elaborate on this design and a little on your reel and line choices.DREW: It is important to understand I spent over a year getting these rods right for my own personal use. Not to sell. The simple reason I insisted on a Tennessee cork handle is because it cuts weight and increases sensitivity, period. Renowned smallmouth expert Billy Westmoreland developed these handles in the 1970s and once you use them, a fixed reel seat feels awful!
When I showed them to my friends at Z-Man, they used the rods and were blown away. Originally, they had no intention to market rods. But eventually, they felt serious Ned rig anglers needed to experience them, as these rods outclass any commercial model on the market.  They insisted that they be made exactly like my personal rods which I truly believe are the "Ultimate Ned Rig" rods!
 It is very important to remember that the lighter the rod and reel combo the more sensitive it becomes, which leads to more fish caught. The Tennessee handle is extremely light and helps provide the greatest sensitivity and bite detection possible.
NED: Do you have a favorite reel for your finesse fishing?
DREW: Here are three items I find work the best with these rods, starting with a Daiwa Tatula LT2000S-XH. This smooth, lightweight reel is taped to the rod's cork Tennessee handle with 3M Scotch Super 33+ Vinyl Electrical Tape. The reel is spooled with four-pound-test Berkley FireLine, which is attached to either a four- or a six-pound-test Seagar Tatsu fluorocarbon leader.    

Hall of Fame angler/writer Ned Kehde with a good one.
NED: Why do you continue using the same "superlines" all these years later?
DREW: The introduction of Berkley FireLine revolutionized light-line fishing. While most anglers were excited about stronger lines, true light-line anglers loved the small diameter and minimal stretch. When all we had was four- and six-pound-test monofilament lines that stretched like a rubber band and rods that were as limber as a buggy whip, landing fish was beyond difficult. Back in those days, our first step was to custom-wrap casting rod blanks with spinning guides. There were no commercially available rods like our custom-built models. The downside was they were heavy and overpowered the four-pound-test monofilament line; so, line breakage became a real issue. FireLine answered all issues—minimal line diameter, incredible strength and no stretch. Even though leaders were needed, it was a tremendous help for the light-line guys!
I have tried most of the braided lines today and still prefer FireLine. It is not a braid. Instead, it is fused. This makes it smoother. It lays flat on the spool. What's more, the other braided lines tend to cut the knot that affixes the fluorocarbon leaders to the braided line. And I use the simple Seaguar knot that is quick to tie, and it rarely breaks at the knot.

NED: You mentioned Ray Fincke and his contributions to fishing. Were Ray's early finesse rods the inspiration for your new Z-Man rods?

DREW: Looking back, one great early improvement in the realm of Midwest finesse fishing was Ray Fincke's "stinger rod." Ray was an eminent rod designer and builder. He was also the proprietor of the renowned Fincke's Tackle Shop on Southwest Boulevard in the Rosedale neighborhood of Kansas City, Kansas. In the early 1980s, Ray's stinger caught the eye of Gary Loomis, and it became the model for the Loomis' SJ 6400 and the SJ 700 rods. With Ray's stinger and Loomis's rods, we had for the first time a light graphite rod with a backbone, and it became the standard-bearer for us light-line anglers.
I am very proud to have spearheaded the tremendous advancement of Ray Fincke's stinger rod. Ray died on March 15, 2011, at the age of 74, and if he could have fished with one of these Z-Man rods for 30 minutes, I am certain he would be proud to have started this concept.
NED: What are some of your top lure presentations for each rod model?

DREW: Of course, the final great improvement and the most important was Z-Man's ElaZtech softbait formula. Without it, there would have not been a Ned rig, which has been one of the fastest-growing trends in angling during the last few years.
While field-testing the five-foot, four-inch rod and five-foot, 10-inch rod, I have found that the five-foot, 10-inch one is best for drop-shotting ElaZtech baits and employing the moping tactic that Jeff Gustafson used to win the 2023 Bassmaster Classic. It is also best for using larger hooks (such as 3/0 and 4/0) and jigheads with large swimbaits and Texas-rigged baits on Z-Man's Finesse BulletZ™ jigheads. It also excels for using topwater lures like the Rebel Pop-R. For using all the Ned rigs, such as the Finesse TRD, Finesse ShadZ, or TRD TicklerZ™ rigged on small Finesse ShroomZ™ Jigheads, the five-foot, four-inch rod is ideal.

NED: I can say with certainty that these Z-Man rods have added a tremendous amount of joy to my fishing. You and I have discussed this "joy" factor at length.

DREW: A rod-and-reel combo that weighs less than eight ounces is simply so functional for increasing the number of fish caught per hour that it is a gift to every angler who picks one up. If you fish for 30 minutes with these rods, you will find that they are exponentially more effective than any of the 6 ½- and 7 ½-foot rods today. More importantly, you won't want to put it down because it is SO MUCH FUN! Just today, we caught 75 smallmouth bass and one very tough 11-pound pike. I have enjoyed fishing this summer immensely!