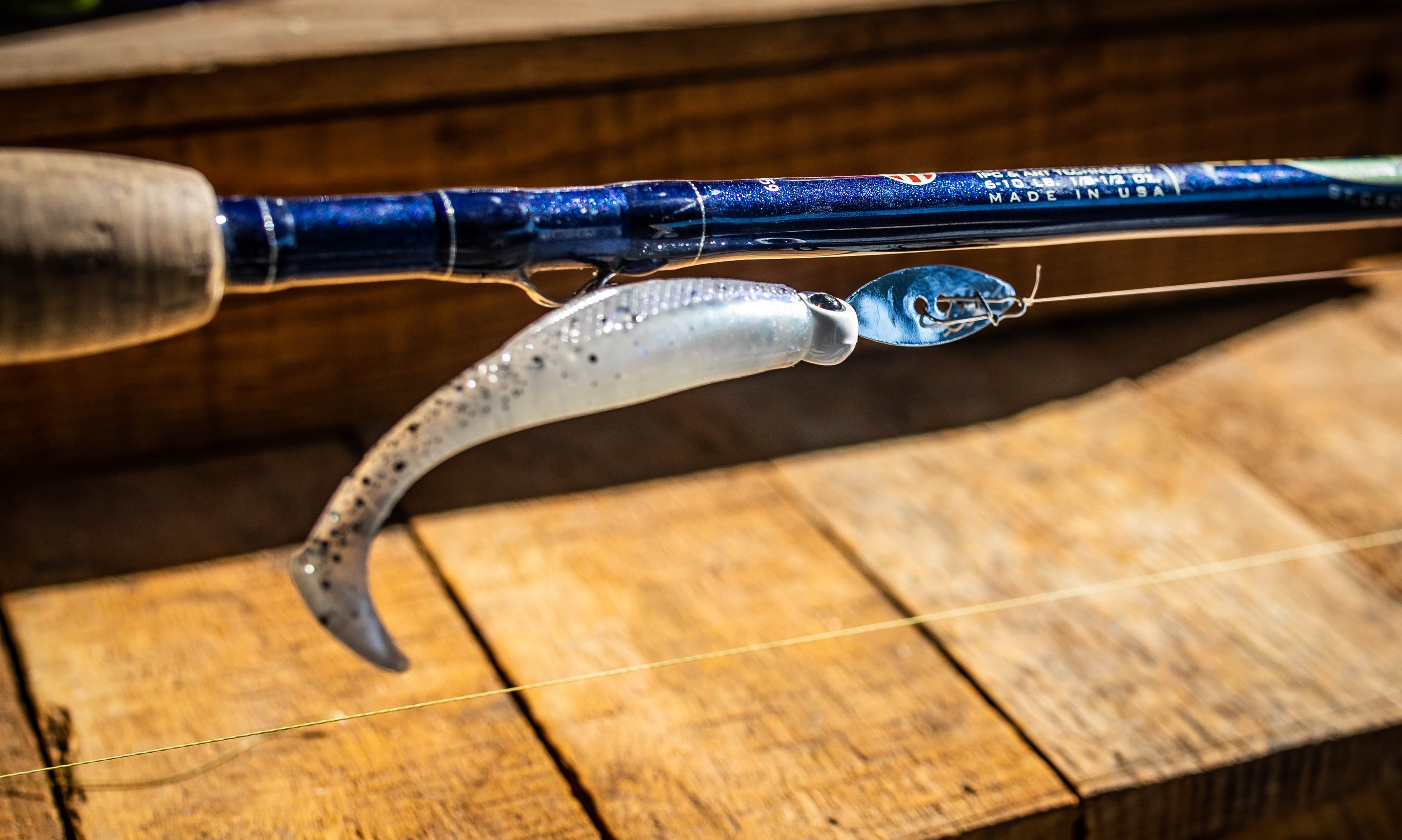 Crazy-Blade Walleyes
ChatterBait® bladed jigs continue catching toothy predators, under the radar
 Ladson, SC (September 19, 2023) - A walleye's compulsion to attack ChatterBait® bladed jigs has become undeniable. Paradoxically, bladed jig patterns also remain off-the-radars of most walleye fans. You've either tried it, succeeded and quickly gone radio silent. Or, you haven't. Up until now, guides who've cast these remarkable "bass" lures to incite aggressive walleye bites haven't spilled the beans. Unsurprisingly, tournament anglers are keeping their catches under a similar shadow of intrigue. In recent seasons, however, the breadcrumbs and the proof continue to build, pointing to something special brewing in the land of old marble eyes.
Recently, to discover the realities of walleyes and ChatterBaits, we probed the minds of several elite anglers, guides and tournament aces who've previously dropped hints, but until now, have hesitated to deliver the goods. 
"If you think about it, a ChatterBait bladed jig makes total sense for walleyes," says Dylan Nussbaum, a high-ranking tournament pro from Saint Marys, Pennsylvania. "Walleyes love vibration, they're drawn to it, especially those lower frequency thumps and pulses. They almost always respond positively to flash—those reflective, on-off strobe light visuals."
Walleye weaponry (L to R): ChatterBait WillowVibe with Slim SwimZ, WilllowVibe with Finesse ShadZ, EyeStrike ChatterBait with Scented PaddlerZ, ChatterBait Elite EVO with ChatterSpike™.
Bladed Jig BreakdownBeyond the flash and vibration and the silhouette of a trailing softbait, Nussbaum calls out one other key enticement, exclusive to a ChatterBait. "Some of the best walleye baits all share in common a rare ability to move erratically, randomly," notes Nussbaum. "Look at the movements of a suspending jerkbait, for example. Or a heavy, jigging style glidebait. Both lures dart and slash in unpredictable directions—just as a live perch or minnow kicks and jukes unpredictably as they're being hunted. Walleyes, especially big ones, respond forcefully to this type of action—and when you add a flash and vibration to an already erratic lure, you've got an unbeatable combination.
"When I retrieve an Eye Strike® ChatterBait or a ChatterBait WillowVibe™— especially when I speed up or slow down my retrieve—the lure often darts randomly, right or left, before returning to center. Add your favorite swimbait or other soft plastic tail, and you've got the total walleye package."
Even though anglers have been catching big walleyes on ChatterBaits for years, often by accident, walleye specialists continue underrating bladed jigs because they've been programmed to think of them in terms of bass only. But put the blade in the water and there's no doubt walleyes sense it via lateral line—a ChatterBait likely emits the most powerful low frequency vibrations of any artificial lure.
Contrasted to a 'jig spinner' or underspin, a ChatterBait bladed jig connects to your line via an eyelet attached to the midpoint of the blade, which rocks about a leadhead jig. The blade drives the engine, pushing water, oscillating on an axis and compelling the jig to shimmy and dart in random directions. The jig's action and profile can be further altered depending upon the soft plastic trailer riding astern.
Another happy 'ChatterBait surprise.'
(Photo by Bill Lindner)
While most bladed jigs, such as the ChatterBait Elite EVO™ or JackHammer™ wear a silicone skirt, walleye anglers often prefer to remove and replace it with a 3- to 5-inch soft plastic paddletail, such as Z-Man
DieZel MinnowZ™
or
Scented PaddlerZ™
.
Running depth can be altered via jighead weight, retrieve speed, or by swapping the various soft plastic trailers. A bulky, subtle action trailer such as a Z-Man
RaZor ShadZ™
matches slow to moderate retrieves, keeping the lure aloft, over vegetation. A slender straight tail trailer, such as a Finesse ShadZ™ or Scented Jerk ShadZ™ allows for deeper retrieves and expanded erratic behavior. Conversely, a thicker-bodied paddletail offers intense tail-thump and requires a slightly slower retrieve to keep the lure down at a certain depth.
A bladed jig leads with vibration, shining with slightly faster, horizontal style retrieves. "One of the things l like best about a ChatterBait is that it constantly provides feedback through your rodtip, keeping you constantly engaged," notes Nussbaum.
Z-Man pro Dylan Nussbaum rocks a ChatterBait walleye.
Willow-the-Walleye
Unassuming but oh-so-effective, a subtle variation of the ChatterBait known as the WillowVibe has walleye written all over it. Connected to a small willowleaf blade, line tie amidships, the WillowVibe's ¼- or 3/8-ounce ball-head jig provides precision depth control. This remarkable little lure excels at stop-and-go retrieves, occasionally tagging the substrate along shallow dropoffs, down to about 20-feet. It's also an exceptional option for casting over shallow weedbeds or off structure, where walleyes forage on suspended prey. The lure excels with a slow swim and pause retrieve, which can be executed either with moderately fast sweeps of the rodtip or with a slow, steady rotations of the reel handle.
"When you get the speed just right, you'll feel the WillowVibe sing as it hits the sweet spot," Nussbaum explains. "Ideally, use quick little jolts of speed, or fast rod pulls, to make the lure hunt randomly, juking and jiving left and right. This can be intensified or toned down by various soft plastic trailers. A subtle straight tail like the Finesse ShadZ lets the WillowVibe's blade to the talking. A more aggressive thumper tail, like the 3-inch
MinnowZ™
slightly offsets blade action. Again, the lure's vibration and subsequent feedback through your rodtip will quickly tell you if you're retrieving the lure right or wrong."
"One of the best bladed jig patterns I've found is casting it onto rock structure in 10 feet of water or less," says Nussbaum, referring to rocky rivers and reservoirs. "I'm almost always pairing a 3/8-ounce WillowVibe with a 3-inch Slim SwimZ™ or MinnowZ, for a profile that matches our local forage (perch, shad, baby white bass.) One of the best retrieves I have found is slow and steady. Reel just fast enough to activate the willowleaf blade. Occasionally, pause and let your bait fall back to the bottom."
A giant 'eye ate Z-Man pro Jamie Bruce's ChatterBait WillowVibe last fall.
"It's one of those intriguing looking lures you're curious about from the first time you see it," offers Jamie Bruce, a talented multispecies and tournament angler from Kenora, Ontario. "I started playing around with the WillowVibe for walleyes last fall. Actually, caught a giant on it on the very last day of the season. When you see what the bait does in the water, its potential for walleyes and other species becomes undeniable.

"The WillowVibe is an awesome, subtle search bait, perfect for canvassing shallow flats or covering drop offs."

Adds Wisconsin based professional angler and guide Troy Peterson: "This bait has become one of my favorite options—both for guiding and tournament fishing. On slower days—especially on rivers and darker water lakes and flowages—we cast the ¼-ounce WillowVibe with half a nightcrawler. A slow steady retrieve along the edges of reefs or over the tops of boulders results in a lot of bites you'll otherwise miss.

"When walleyes are active on the rocks, we pair a 3/8-ounce WillowVibe with a 4-inch Jerk ShadZ," Peterson explains. "Give the lure quick snaps or rips and let it freefall to the bottom.

"In weeds, I'll work the ¼-ouncer with either a half crawler or a 4-inch SwimmerZ™, using a faster retrieve to keep it running over the plant tassels. Walleyes hit it so aggressively they'll often lunge right out of the water like a bass."
Captain Ted Peck calls the ChatterBait JackHammer his favortie lure for probing shallow cover.
Bladed Jigs Beyond
When fishing Midwestern rivers, Peterson casts the same lure cross-current and slowly retrieves and grinds it along bottom. Here, he prefers to pair the WillowVibe with a Scented PaddlerZ, leech or half crawler. "Any time you've got stained water, rocks and walleyes, the WillowVibe has become one of my go-to guide baits. It's easy and fun to fish, and consistently puts fish in my boat."

West to walleye factory Devils Lake, North Dakota, veteran outdoor writer Mort Bank prefers a DieZel ChatterBait™ for casting shallow water flats. "Walleyes haven't seen anything like the action of a ChatterBait," notes Bank, "which is why I first tried them several years ago. The lure combines flash and heavy vibration with the wobbling, rocking action of the jighead and soft plastic tail—just hits all the right notes for big walleye."

Late spring through early fall, or anytime walleyes haunt shallow vegetation—particularly on Mississippi River backwaters— legendary guide Captain Ted Peck ties on bladed jig. "If I could choose just one lure for fishing this kind of water, it would be a black and blue Z-Man ChatterBait JackHammer dressed with a 3-inch paddletail," notes Peck, author of Flames & Fins—An Old River Guide Looks Back Upstream. "A ChatterBait may not be on most walleye angler's top-10 lists. But on the waters I fish—or anywhere walleyes cruise shallow weeds—it's number one."