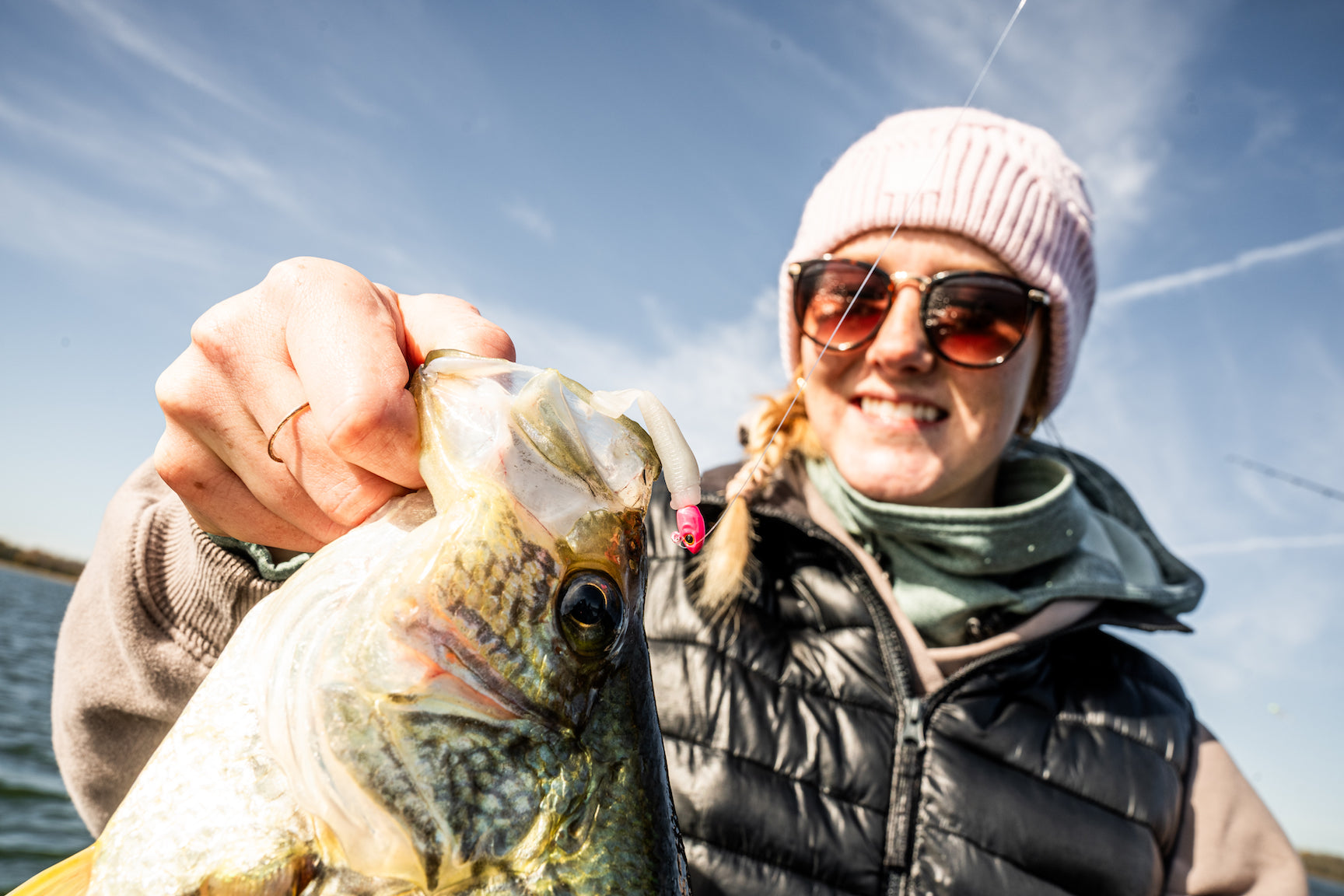 Chomp-Proof Panfish Plastics
Chomp-Proof Panfish Plastics
New Z-Man® Micro Finesse Baby BallerZ™, Micro GOAT and Micro Shad HeadZ™
primed for primo fall crappie bites
Ladson, SC (November 16, 2023) – After hatching in summer 2022, Z-Man's Micro Finesse baits quickly attained must-have status among serious crappie, panfish and multispecies anglers across the continent. Never before had anglers experienced a crappie/panfish bait built so remarkably soft, so surprisingly energetic in the water and yet so implausibly durable and long-lasting at the same time.

Among scores of angler reviews, two similar standout themes emerged: (1) "I caught over 100 fish on one bait!" and (2) Given their invaluable fish-catching attributes, many anglers believe Z-Man's ElaZtech®-enabled Micro Finesse baits will "forever revolutionize the pursuit of panfish for the better."

Beyond Z-Man's original four bait profiles, including the Micro TRD™ and Shad FryZ™, plus matching Micro Finesse ShroomZ™ jigheads, Z-Man recently dropped three new gems—the Baby BallerZ™ minnowbait, Micro GOAT™ creature/swimbait and Micro Shad HeadZ™ jigheads, all available now at your favorite fishing retailer.
Baby BallerZ™
Sized and shaped to match baby shad and other natural panfish forage, the Baby BallerZ is powered by a hydrodynamic, pyramidal tail section that responds to the slightest rod movement. Extra soft and always active in the water, the 2" Baby BallerZ matches micro minnow forage preferred by big crappie, panfish, trout and super selective bass.


2" ribbed body generates fish-attracting water displacement and air bubble emissions.
Super soft, natural texture promotes easy-to-activate motion and extended bite retention.
Ball tail shimmies and undulates on the fall or swims seductively on straight, slow retrieves.
10X Tough ElaZtech body is extra malleable, buoyant and incredibly durable.
Designed to match the new Micro Shad HeadZ jigheads.
Offered in ten captivating color patterns – MSRP $4.99 per 8-pack
HOT TIP: Even when you stop retrieving, the super soft Baby BallerZ tail continues to kick, palpitate and "breathe." Use this subtle action to your advantage by "moping" for sluggish, deep crappies and other panfish. Drop and hover the bait a foot above the level of the fish (seen on sonar.) Don't move your rod. Instead, lean on the bait's relentless pulsing, tail-wagging action, which nearly always compels fish to swim over, examine and inhale the little minnow-like morsel.
Micro GOAT™
A wonderfully versatile panfish-catching profile, the Micro GOAT sprouts fine, flattened dual kicker legs, finished with water-catching curved paddletails that continuously pulse and swim at any retrieve speed, including during the drop.


1.75" downsized version of Z-Man's proven GOAT creature bait
Ribbed body increases water displacement and traps air bubbles for visual attraction.
10X Tough ElaZtech body provides softness, extra action and unparalleled resilience.
Twin curved paddle tails activate at any retrieve speed.
Available in 10 vibrant colors – MSRP $4.99 per 8-pack

HOT TIP: Cast, trolled or vertically jigged, the Micro GOAT is radically versatile, imitating invertebrates or baitfish, depending on how you rig and retrieve it. Beyond traditional "flat" rigging—mimicking a baby crawfish or other bottom-dwelling critter—anglers have also discovered the bait's beautiful action as a double-tail swimbait. Rig the Micro GOAT vertically on a jighead, allowing for faster horizontal retrieves or slow trolling to cover more water. Also shines as a BFS swimbait, cast for bass and many other species.
Micro Shad HeadZ™
Featuring a hydro-contoured minnow-shaped jighead, the Micro Shad HeadZ are made to match all Z-Man Micro Finesse baits. Armed with a light-wire, needlepoint black nickel hook, the Micro Shad HeadZ pins ElaZtech soft plastics tight, thanks to a hybrid molded split grip and wire trailer keeper.


Tournament-grade baitfish profile Micro Finesse jighead
Compact yet powerful needlepoint black nickel hooks
Radiant 3D eyes offer visual strike appeal.
Offered in 1/32- (#6 hook), 1/16- (#4) and 3/16-ounce (#2) sizes.
Chip-resistant Pink Glow, Glow White, Chartreuse and Black finishes - MSRP $4.99 per 4-pack
HOT TIP: A Baby BallerZ / Micro Shad HeadZ jighead is proving to be an exceptional dock-shooting combo. The jighead's flat surfaces promote longer, quieter skips. But some anglers have discovered they can superglue the bait to the jighead, pinching and propelling the bait by its tail rather than the hook. Rely the BallerZ's stretch and tear-resistance to slingshot casts much further beneath the dock—all without having to touch the jighook or risk injury.

To cherry pick your own packs of new ElaZtech Micro Finesse baits and jigheads, check your local fishing tackle stores or online retailers now. For more information, visit www.zmanfishing.com.