Ryan Lambert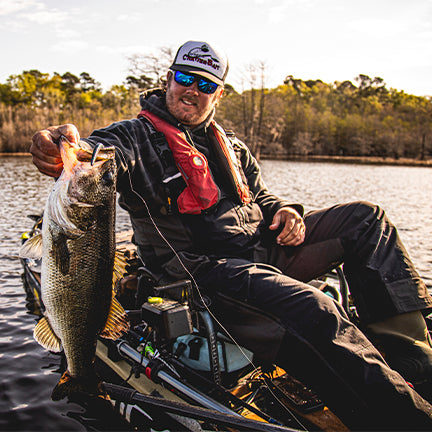 Key Stats
Career Accomplishments:
1st Place 2020 Hobie TOC
1st Place 2021 Hobie BOS Watts Bar Lake
1st Place 2020 TN State Championships
Off-Water Activities:
Duck Hunting, and Elk hunting with my daughter.
About Ryan
Ryan "Lunchmoney" Lambert's caught the fishing bug while chasing bream and catfish on Tennessee's Sequatchie River with his grandpa. When his own daughter turned three, Lambert put her in a kayak and decided this was a pretty great way to catch fish, plus experience the aquatic surroundings. He joined a local kayak club in Chattanooga and began entering kayak-bass derbies. Before long he was fishing and winning tournaments, such as the 2020 Tennessee state kayak championship. Lambert has continued on an amazing victory tour, winning the 2020 Hobie Tournament of Champions and the 2021 Hobie BOS tourney on Watts Bar Lake.
Like other top kayak anglers, Lambert says the allure of competitive kayak fishing goes beyond the fishing itself. He especially enjoys the close-knit community-like atmosphere, where he says anglers freely share information and are more than happy to help each other with tackle or travel needs or to lend a helping hand on the road. Among the craziest days he's experienced in a kayak, Lambert recalls night-fishing near Pensacola, Florida when a 10-foot bull shark ate the redfish off his line, right beside the boat.