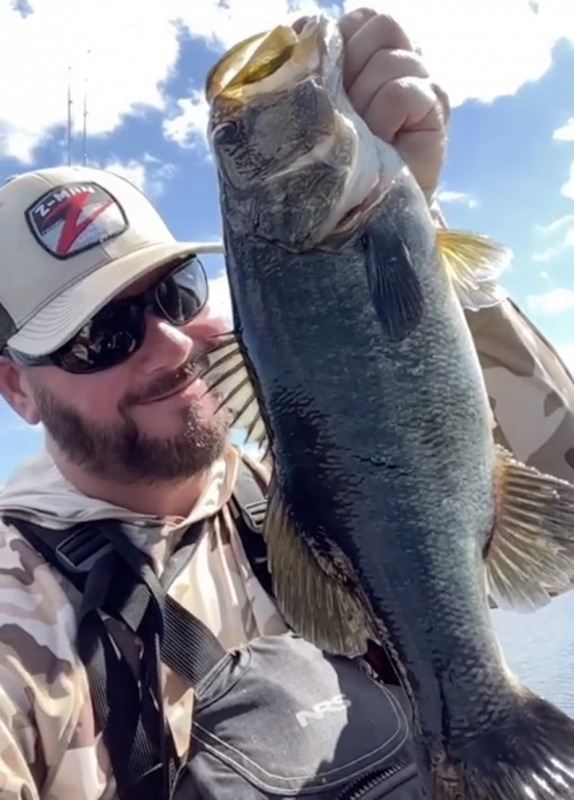 Z-Man® Signs a Country Star
Z-Man® Signs a Country Star
Competitive kayak angler and musician Abby Abbondanza joins influential Z-Team
Ladson, SC (March 2, 2023) – Admittedly, Abby Abbondanza's a pretty cool name for a musician. So maybe it's a moniker more befitting a heavy metal rockstar than a country singer. Then again, country crosses over into rock, pop and other genres; perfectly appropriate for a songwriter, professional angler and salt-of-the-earth gentleman who's reinvented himself as a successful kayak fishing competitor.
When he's not slinging ChatterBaits® or ElaZtech® soft plastics, new Z-Man pro-staffer Chris "Abby" Abbondanza still strums an awfully impressive six-string. Original frontman of country crooners the PovertyNeck Hillbillies, Abbondanza and bandmates produced three acclaimed studio albums, including 2006 single "Mr. Right Now," which held the #2 spot on GAC's video chart for fifteen weeks straight.
Eventually, the group disbanded, but Abby never stopped writing, performing and releasing solo albums—and certainly, he never stopped fishing. Today, he continues performing his own style of country music to audiences all over the northeast. But ask him what's more important, singing or fishing, and his answer speaks for itself. "Put it this way. I schedule my concert calendar around fishing tournament dates, not the other way around," Abby says with a welcoming grin. Three years ago, Abbondanza, a Pennsylvania native who lives within a few hours of Lake Erie, sold his bass boat to tackle competitive kayak fishing full-time.
"Several years back, my buddy Adam Milstead, who's an ex-UFC fighter and a big dude like me, got me into kayak," he recalls. "At first, I figured someone my height (Abby's 6'4") would have trouble in a kayak. Actually, it's just the opposite, and now, a kayak's my favorite way to stalk bass. The stealth and human-powered parts of the sport just add to the appeal. And the people on circuits like the Hobie BOS—including my good friend and fellow Z-Man pro Jody Queen—make up an awesome community of anglers. We're a friendly bunch who like to share in each other's successes and just have a good time. Sometimes, Jody and I will sit and just jam on our guitars for a while. Fishing and music are good for the soul, man."
As Abbondanza grew into the sport he'd loved since watching Bill Dance on TV as a lad, he eventually discovered Z-Man ElaZtech baits. He knew the baits were different, better in many ways than traditional soft plastics. For a light-packing angler, he also realized the longevity and resiliency of ElaZtech baits were a match made in kayak heaven. "To simply pack a few bags of soft plastics for a full day of fishing—rather than mountains of traditional baits—is a huge advantage and a major time saver," he notes. "Imagine fishing an entire tourney with just a few packs of baits. Crazy, but perfectly possible with ElaZtech."
New Z-Man pro and country musician Abby Abbondanza.
Right off, Abby knew he wanted to meet and connect with the folks behind his new-found bass baits. So, several years ago, he made his way from Pennsylvania to Florida and the annual ICAST show, in hopes of a developing friendships and perhaps, a new sponsor.
"We liked Abby immediately," recalls Z-Man promotions manager Joey Prochazka. "He's a likeable, charismatic guy—and a heck of an angler, no doubt. Everyone here loves his positive energy and excitement for fishing. Yet he's also a laidback and approachable dude who just likes to talk fishing. Abby's combined talents for music and catching bass make for an interesting human being and we're delighted to welcome him to Team Z."
In his first few years on the Hobie BOS circuit, Abbondanza has quickly ascended leaderboards, qualifying for the Tournament of Champions in 2022. "We fish some really diverse waterbodies—from Florida and Texas lakes to West Virginia and Midwest rivers," he notes. "Everywhere I've been, ElaZtech baits like the Baby GOAT™, Bang StickZ™ and Mag FattyZ™ just continue catching good fish."
Among his more intriguing bass tricks, Abby likes to nose-hook a Finesse TRD™ onto a dropshot rig—a decided departure from traditional Ned rigging. "You can lightly nose-hook a TRD on a dropshot and it'll stay put—won't rip off the hook like other baits," he notes. "Some days, you can fish all day with a single TRD. The material just doesn't tear, even after a bunch of smallmouths eat it.
"I'll fish it down in 25 to 30 feet of water at Lake Erie all the time, and the smallmouth can't get enough of it. The buoyant ElaZtech material floats and makes the TRD ascend and hover in place. You really don't have to do much with it, almost like it's live bait. Just move it slowly back, pause and let it set in place and you'll catch loads of bass."
When he does tie on a Ned rig, Abbondanza's style once again deviates from convention. "I never put a Baby GOAT, TRD or Bang StickZ on an exposed hook jighead—except when I'm fishing a shaky head. I prefer going weedless with my Ned baits, and the NedlockZ™ EWG is an awesome, underrated finesse jig. Amazing fish hooker. But it also lets me rig small baits weedless, so I can fish cleanly across rocks, and through grass and brush, no problem."
Underscoring Z-Man's commitment to the burgeoning sport of kayak fishing and its cast of fascinating characters, Z-Man's Prochazka adds perspective: "Similar to Drew Gregory, Jody Queen and Ryan Lambert, Abby's got a super interesting backstory and an exciting future ahead. When he or any of our pros win or discover an innovative way to catch more fish, everyone shares in the rewards."