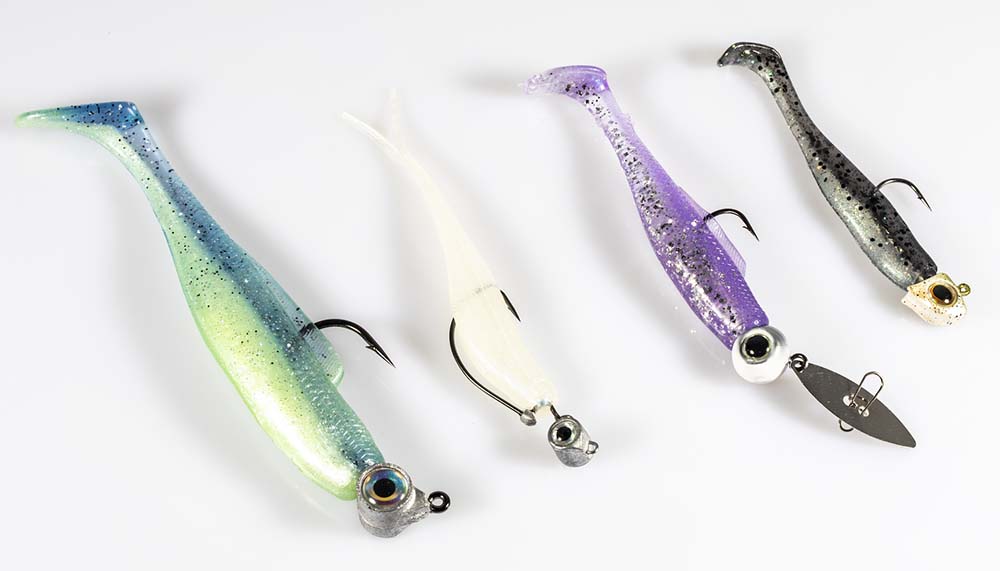 (Photo by Bill Lindner)
Superplastics patterns for pelagic bass, under-the-radar
Ladson, SC (August 15, 2023) - A lone ship in the emptiness of outer space, your boat seems lost, disoriented, far from shore. Like throwing darts at stars, your first exploratory casts into the open abyss feel like a fruitless leap of faith. Thankfully, you've learned a thing or two about pelagic baitfish—oily, nutritious and highly addictive to aquatic predators. Even smallmouth bass, which would just as soon mingle among the boulders, sense and stalk the open water buffet. So, armed with this knowledge and an arsenal of superplastics, you cast once again into the abyss, knowing big bronze awaits.
"No question, anglers are now finding and catching more offshore smallmouths than ever, all across their range," notes Z-Man® pro and 2023 Bassmaster Classic champion, Jeff "Gussy" Gustafson. "Certainly, it's because forward facing sonar is showing us sizeable, high-riding fish all around our boats, often well away from structure."
As Gussy will also tell you, the fish have been out there for a long time, just waiting to be caught. For as long as anyone, he's been tracking bass that feed on pelagic prey, such as smelt, ciscoes and alewives, across the north and into the Great Lakes. Years before joining the national circuits, Gustafson won numerous Canadian events by tapping these offshore, suspended smallmouth bites. Recent bass tourneys east and south have shined a brighter light on pelagic smallmouth behavior.
"I'm heading to Lake Champlain this week, where we hit a pretty solid suspended bass bite at last year's (Bassmaster) Elite event," says the Ontario based pro. "Week after that, the Elite Series goes to Lake Ontario, another place with awesome off-structure smallmouth bites. Just so much potential on these deep clear waterbodies."
Jeff Gustafson has been on the leading edge of suspended smallmouth behavior.
Then two years ago, Gustafson opened anglers' eyes to suspended smallmouth behavior well to the south, winning a 2021 Bassmaster Elite and then the 2023 Classic on the same Tennessee River reservoirs. Each time, he excelled by teasing offshore smallmouths up high in the water column with a jig and 3.5- to 4-inch Scented Jerk ShadZ™.
"The past three years with live sonar have taught us that big smallmouths suspend more often than anyone thought," Gustafson observes. "But they're not just drifting aimlessly in huge expanses of openwater. Usually, they lie within a few casts of structure. They make strategic, bait-oriented moves on and off these hard bottom humps, points and rockpiles, out over adjacent deepwater to feed during key times." Specific patterns and top-producing lures, he notes, vary widely, based on baitfish species and their movements.
Suspended bass arsenal (L to R): 5" DieZel MinnowZ on Swimbait Eye jig, 3.5" Jerk ShadZ on Texas Eye Finesse jig, 3" MinnowZ on ChatterBait WillowVibe, 3" Slim SwimZ on Finesse Eye jig.
Disco Cisco
Where bass key on ciscoes (aka tullibee or lake herring) in northern lakes, for example, anglers occasionally connect with the lake's biggest smallmouths— suspended over 50 or more feet of water— quite by accident. Yet focusing on offshore cisco migrations can potentially put you on untapped trophy smallmouth bites.
As water temps broach the mid 60s in spring, rafts of ciscoes—a salmon relative which live in cooler deep waters—begin making evening ascensions in the water column, from the thermocline and up toward the surface to feed on zooplankton and insect hatches. According to cutting edge Wisconsin based fishing guide Andrew Ragas, these low-light baitfish movements draw the lake's largest predators—bass, walleye, muskie, pike, lake trout, etc.— off structure and into the abyss.
"When it's on, the open water bite can produce some really big smallmouths," believes Ragas.
"While the pattern is already available just after bass finish spawning, I really start hitting the open water zones in midsummer. When our goal is to crack someone's PB (personal best) bass, I'll often hit the deep lake basins. It's not always a big numbers deal, as we average maybe five to ten bites each evening. But a fair percentage of fish are 5-pound plus giants."
Ragas admits he's noted a decline in cisco populations in recent years, largely due to warming waters and waning oxygen below the thermocline. Yet strong bass-cisco interactions persist, especially on large, deep, cool water lakes with ample deepwater oxygen, where ciscoes reside. To locate key areas, Ragas relies on Lowrance side scanning sonar to pinpoint cisco pods and individual large predators. He often begins near shallower structure that drops rapidly into 50 or more feet of water, idling further and further into the deep basin with his trolling motor. With side scan set at the 50- to 80-foot range, Ragas begins working and casting into the abyss, dropping targetable waypoints on active cisco zones or larger fish.
Guide Andrew Ragas with well-fed open water smallmouth.
"During the day, you can target bass 10 to 20 feet down in deep main lakes areas, especially if they're near hard bottom structure," he notes. "But you'll have more fish to work with toward sunset." He believes the best fishing occurs on calm, humid evenings following a warm sunny day. "On sonar, you'll actually see rafts of ciscoes rise to the surface. The key sign is seeing ciscoes porpoise and make splashy rises.
"Smallmouths have no problem taking down a 5- to 8-inch cisco," Ragas explains. "Likewise, I've found that a 5-inch DieZel MinnowZ™ on a ¾- to 1-ounce jighead (such as a 3/0 Swimbait Eye™) shows bass the optimal size and profile. You want a heavier jighead, too, which helps activate the bait; gives it a fast thumping, fleeing action. Z-Man's "disco cisco" DieZel MinnowZ pattern nails the blue, green, silver coloration of the species, and it's been my go-to this year."
Gussy adds that while keying on smelt, shad or other offshore baitfish patterns, the aforementioned Jerk ShadZ program, known as moping or hanging a minnow, remains a predominant offshore technique. But when smallmouths focus-feed on suspended ciscoes—a true pelagic species—he believes more active horizontal methods, such as swimbaits, Alabama-rigged DieZel MinnowZ and flutter spoons produce the biggest bass.
For Ragas, the ideal paddletail swimbait presentation is a "bomb cast" followed by a steady, slow-rolling retrieve. "Bites often occur within the first few cranks of the reel, but keep the bait moving all the way back, because big smallmouths often follow and bite right beneath the boat."
Big Water Bronze
On exponential scales of big water, Z-Man pro Jamie Bruce nearly won the recent 2023 Bassmaster Open at the St. Lawrence River, zeroed on another overlooked smallmouth pattern. While most anglers focused on substrate-focused structure, Bruce fished for bass in the top 20 feet of the water column.
"The traditional deal on the St. Lawrence River and into Lake Ontario is to fish goby-based patterns near bottom," admitted Bruce, who finished the tourney in 3rd place, just two pounds out of first. "The bass I targeted were feeding on something else—smelt, alewives or ciscoes—all in the top 20 feet of water, and they didn't care how deep it was below them."
Among Bruce's heavyweight smallmouth limits, the Ontario, Canada pro pulled a 5-1/2-pound bass from a school of suspended walleye. "While you get denied by quite a few fish, by far my best lure has been a ¼- or ½-ounce Smeltinator Underspin rigged with a 3-inch Z-Man Slim SwimZ™," Bruce explains. Disco Cisco and Slam Shady swimbait patterns both produced key bites toward his 69-pound 12-ounce final weight.
"Something about that little blade and the small profile Slim SwimZ that really pulls big smallmouths out of the schools," he says. "Seems like the biggest bass were mixed in with drum and walleye, which also bit the swimbait.
Jamie Bruce's suspended smallmouth program nearly won the 2023 Bassmaster Elite on the St. Lawrence River.
"Most days, I was learning on the fly," Bruce recalls. "Starting on structure, I'd put the trolling motor on 100 and move gradually into deeper water, always watching the screen for signs of life."
Bruce notes how he initially fished the classic moping technique with a jig and Scented Jerk ShadZ. "But I just ended up catching too many walleye and drum that way. But the bass could be triggered with a faster horizontal retrieve and the little paddletail swimbait."
Interestingly, Bruce admitted he never graphed bait balls with his forward-facing sonar, yet he was able to discern individual bass versus walleye or drum, which enabled him to place pinpoint casts. "If I'd see a smallmouth come in hot toward the lure, I'd react and reel fast, which often triggered a bite. Sometimes, I also pulled the lure right up to the surface and twitched it. Otherwise, it was a slow-roll retrieve, occasionally ripping it to turn their attention. Seemed like if I spotted a single bass on sonar, it was game on, and you'd usually catch 'em."
Noteworthy is that just before leaving Ontario for the St. Lawrence tournament, Bruce says he was fishing an identical open water pattern, catching big walleyes and smallmouth bass over deep featureless water. "Funny thing, when I arrived in New York, I still had the same Slim SlimZ rigged on an underspin from Lake of the Woods and continued catching big smallmouths without missing a beat."
Scented Jerk ShadZ versus baby kokanee salmon.
Salmon-Eating Smallmouths
More proof of their appetite for salmonids, some of the world's biggest smallmouth bass have recently been caught in western U.S. reservoirs stocked with kokanee salmon—a landlocked sockeye. In select lakes from California, Oregon and Idaho and as far east as Maine and North Carolina, kokanee provide angling action of their own. But just after stocking trucks drive off, profusions of confused baby kokanee are already vulnerable to predators.
Last November, while stalking suspended, salmon-eating smallmouths, Z-Man pro and Bass Pro Tour angler Luke Clausen lipped an enormous 7-pound 3-ounce bass on a Scented Jerk ShadZ. Meanwhile, earlier last year, guide Travis Wendt boated a gargantuan bass of his own—a 23.5-inch (7-pound 11-ounce) smallmouth from the same remote western reservoir water. The colossal fish, which ate a Z-Man Finesse TRD™ and sported an enormous 18-inch girth, overtook Idaho's catch-and-release state record.
Clausen explains the kokanee-based patterns: "In summer, immense schools of salmon assemble in the middle of these lakes—sometimes suspending over hundreds of feet of water—where they're exceedingly difficult to pinpoint," he says. "You might have a handful of smallmouths, suspended 40 feet down over 300 feet of water. But even with live sonar, on a fifty-mile-long lake that's close to a thousand feet deep, it can still feel like a needle in a haystack."
While many anglers fling umbrella rigs and giant swimbaits, Clausen induces more big bites by matching his bait to the size and silhouette of juvenile salmon. "We see bass spit up a ton of yearling kokanee in the 3- to 5-inch range—that's the size comprising most of the bass' diet," he says. "Though we occasionally catch 2-pounders that regurgitate 10-inch salmon, too."
Z-Man pro Luke Clausen's 7-pound smallmouth ate a dropshot-rigged Scented Jerk ShadZ.
To more closely approximate the smallmouths' bite sized salmon snacks, Clausen throws a 4-inch Jerk ShadZ™ or StreakZ™ 3.75 rigged on a dropshot. Results have been immediate and dramatic. "Put a Smelt, Beer Run or Bad Shad pattern (which produced his 7-3) Jerk ShadZ next to a yearling kokanee and you instantly see why bass find this bait so appetizing.
"But rather than pinning the rig to bottom in traditional dropshot fashion, I started doing a lot of pendulum fishing with it," he added. "I'm usually fishing a ¼-ounce dropshot weight, casting and letting it plummet on a tight line. I like to put my bait right above a bass to get its attention, and then drop the rig fast toward bottom. Or I might reel it fast, from the bottom up, to make a fish hunt you toward the surface.
"That rapid plummeting or fleeing action usually flips the trigger that gets a big bass to chase. And once they chase, you got 'em."
Regardless of your smallmouth geography, big bass are absolutely hunting the abyss even as we speak. If you're interested in an untapped fishing adventure, the middle of nowhere might just be the perfect spot.