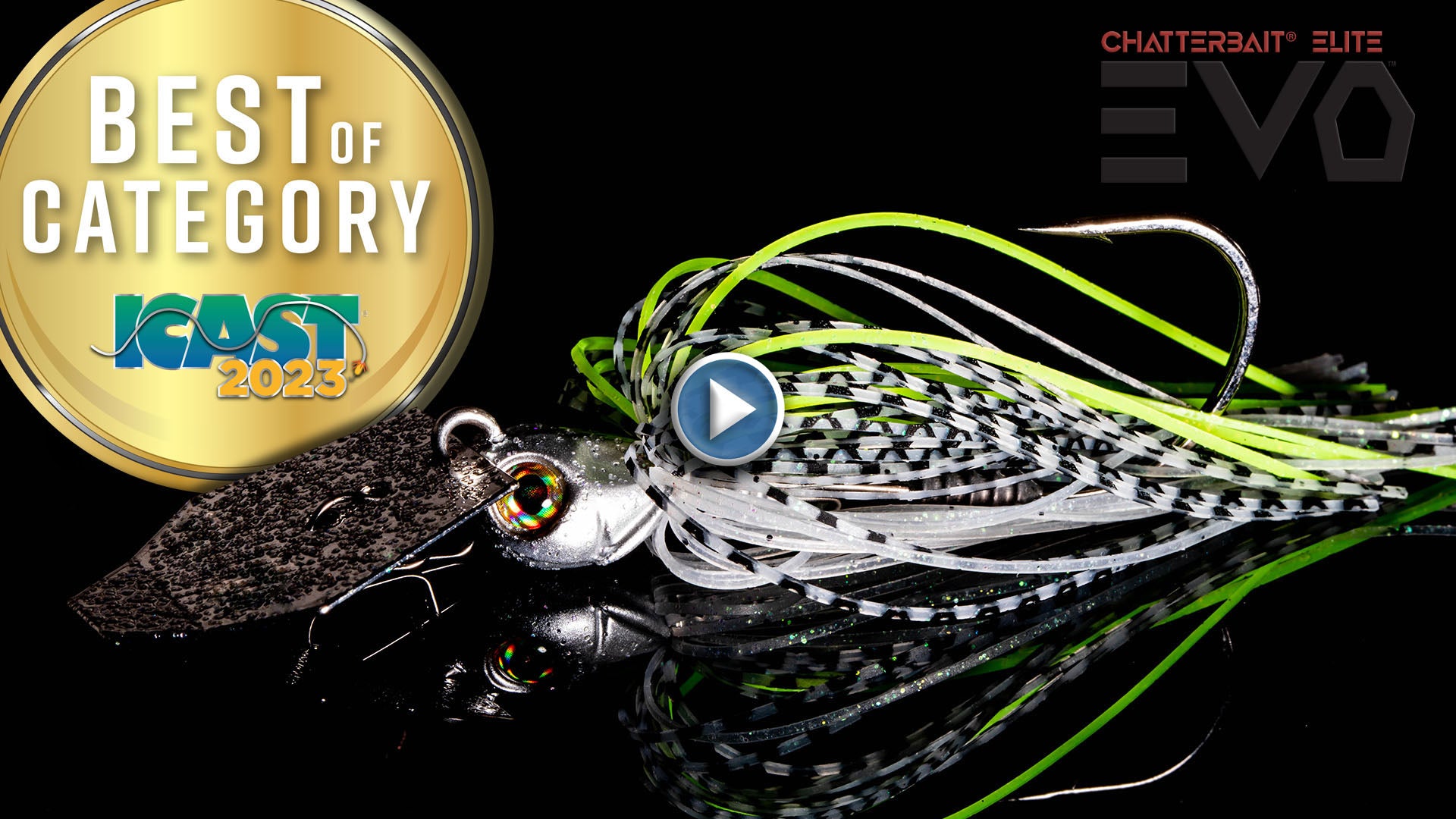 Meet ICAST's 'Best Freshwater Hard Lure'
Breaking down the new Z-Man® ChatterBait® Elite EVO™
Ladson, SC (July 26, 2023) – Prior to winning the 2023 ICAST award for Best Freshwater Hard Lure, the Z-Man crew continuously fielded one essential question: What precisely differentiates the new ChatterBait Elite EVO™ from every other bladed jig today?
Given a series of nearly twenty unique Z-Man® bladed jigs, it's more than a fair question. But before revealing the answers, consider some context . . .
Since its invention, the ChatterBait has never stopped evolving, augmenting the angler's experience with each new version. Along the way, we've marveled at the ChatterBait's never-ending parade of tournament wins and big bass in the boat—perhaps more than any lure in recent memory.
Starting in the early 2000s, Bryan Thrift's dominant ChatterBait wins started a bladed jig revolution, including colossal tournament limits of largemouths at lakes Eufaula and Okeechobee. In the years since, bladed jigs have helped Brett Hite earn over a million dollars in tournament winnings. Stephen Browning netted multiple BASS and Major League Fishing wins, including the 2022 MLF Patriot Cup on a ChatterBait JackHammer™. In 2014, Paul Mueller boated the heaviest single bag of bass at the Bassmaster Classic with a ChatterBait Elite™. At both the 2019 and 2020 Bassmaster Classics, winning weights were caught on an "unnamed bladed jig" aka Z-Man JackHammer. At the 2023 MLF Redcrest, Bryan Thrift evidenced the ChatterBait's staying power once again, winning another JackHammer championship.
A salute to Z-Man's run of incredible bass catching, the new ChatterBait Elite EVO puts yet another high-level bladed jig in anglers' hands. Voted ICAST 2023's Best Freshwater Hard Lure by angling media and tackle buyers, the Elite EVO's underwater performance is enabled by superior bladed jig DNA from the Original ChatterBait company.
"Essentially, in designing the EVO, we put every element of ChatterBait design under the microscope and challenged ourselves to take things to yet another level of awesome," notes Bass Pro Tour angler Stephen Browning, a member of Z-Man's influential bladed jig braintrust. "So when folks ask me what's so special—so different— about the ChatterBait Elite EVO, I usually tell them, everything." Here's a closer look:

#1 - Blade Angle, Head Sculpt & Hunting Action
Among the least understood, yet most critical aspects of bladed jig design, precisely controlling the blade's side-to-side oscillating action keys the ChatterBait's ultimate success. The ChatterBait Elite EVO features a precision ordered, patented blade to jighead connection, angled to maximize oscillation and the random wandering movements so critical to triggering supertanker bass.
"To promote its easy hunting action, we chiseled the EVO's head to move with a knuckleball effect," notes Browning, among the top ChatterBait tacticians of all time. "You'll notice the lure's blunt nose, convex topside channels and side flanges." When the lure goes into "wander mode," Browning notes that these water-channeling contours allow it to hunt freely and erratically; the effect is especially dramatic as you alter retrieve speed.
"To me, the head design promotes a loose, free-flowing action," he adds. "The lure gets off track unpredictably and then comes quickly back to center. Every cast with the EVO showcases a different subtle action—truly, no two casts are exactly the same. If you're out to trigger the biggest bass, I can't think of a better ChatterBait quality."

#2 - Evolved, Three-Tier Trailer Keeper
A new hybrid "split-grip" trailer keeper design eases rigging and holding power, especially with ElaZtech® trailers like the new ChatterSpike™. "The EVO's keeper system includes a 2-part molded and a third wire trailer keeper on the hook shank," says Browning. "The first molded portion of the keeper 'opens the gateway' on the trailer's head, while a separate wire keeper and second molded collar locks it tightly in place. To date, it's the smartest solution for effortlessly rigging and gripping ElaZtech or any other ChatterBait trailer."

#3 - Custom-Built ChatterBait Hook
Moving from head to hookpoint, the ChatterBait Elite EVO features a completely customized 5/0 heavy duty, black nickel hook, expertly outlined by Browning himself. "We wanted to address one complaint I hear on the street, which is making it easier to free the lure if it becomes snagged, particularly on wood.
"By lengthening the shank a mere quarter inch, you put enough distance between the head and the hookpoint to create a strong pivot point, easily moving and freeing the lure when it gets hung. Big time and money saver."
To hook and hold bass even better, Browning slightly upsized the barb, and nudged it back ever so slightly toward the bend. "As with a flipping hook, I believe barb size and position is a major factor in hooking and keeping bass pinned, giving the angler more control over a big fish without fear of losing her on a jump," he suggests.

#4 - Next-Gen Skirt Patterns
To evolve and refresh ChatterBait patterns in crazy new new color arrays, Z-Man tapped its inner circle of bladed jig minds. Check out picks like Glitter Bomb, Bama Bream and Electric Shad—just three among twelve fresh skirt/blade/jighead patterns gracing the new award-winning bladed jig.
#5 - Wire-Tied Silicone Skirts
For optimal flare, undulation and superior longevity, wire wraps secure each lure's premium silicone skirt.

#6 - Durable, Glitter Blade Finishes
The driving force behind every Z-Man ChatterBait, a trademarked hex-shaped ChatterBlade® rides, pivots and oscillates freely, big bold vibration deriving its power from the direct blade-to-head connection. Stainless steel blades on the ChatterBait Elite EVO sport metallic plated, painted and next-level glitter-coated finishes for exceptional light refraction and durability.

#7 - The "Clack"
Emitting another dimension of (clacking) sound beyond blade vibration itself, the ChatterBlade is aligned to constantly crack the jighead, a powerful, often-overlooked element in the ChatterBait equation.

#8 - A Purpose-Driven Trailer
"Another cool trick . . . by rigging the lure with the new ChatterSpike™—a subtle, pintail style trailer with sweet tail wagging action—you'll assure the lure's vibration and hunting action is maximized. The ChatterSpike kicks with a high-frequency tail pulse, which doesn't overpower or offset blade action.

#9 - Palatable Pricetag
Ready to hit the water in October, the new ChatterBait Elite EVO sports two sizes—3/8- or 1/2-ounce—in twelve pro-driven color patterns. MSRP $9.99.