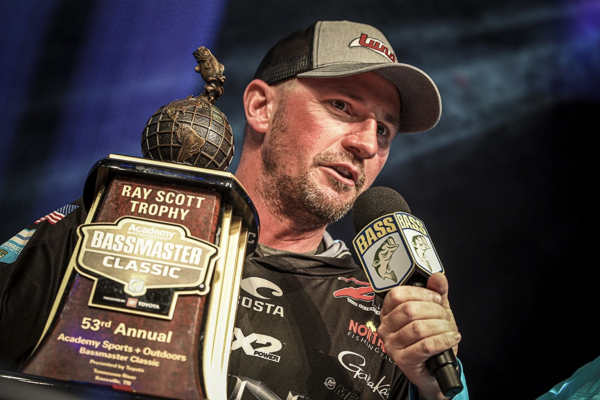 Gussy Grabs Lightning at Bassmaster Classic
Gussy Grabs Lightning at Bassmaster Classic
Jeff "Gussy" Gustafson wins big—once again—with Z-Man® Scented Jerk ShadZ™
Ladson, SC – (March 27, 2023) – A week before conquering the 2023 Bassmaster Classic, Z-Man pro Jeff "Gussy" Gustafson paused a moment to reflect, perhaps clairvoyantly. "Last time we were here, something pretty special happened."
Two years later. Same bass fishery. Identical ElaZtech® softbait. For Gussy, it was one more, even bigger trophy.
"This is my version of winning the Stanley Cup," exclaimed the first Canadian born winner of the Bassmaster Classic, with a nod to his peeps back in Kenora, Ontario.
Employing a precision, vertical jigging maneuver known as moping—or as he calls it, hanging a minnow— Gussy enticed all twelve of his smallmouth bass with the same title-winning softbait. Hovering inches above the eyeballs of big bronzebacks, a Z-Man 4-inch Scented Jerk ShadZ exuded the right natural elements to entice tough-bite smallmouth bass— and the attitude to co-sign Gussy's $300k paycheck.
Gustafson's Bassmaster Classic winning bait, a Z-Man 4-inch Scented Jerk ShadZ, smelt pattern.
"Every fish I caught, both tournaments . . . Z-Man 4-inch Jerk ShadZ," Gussy confirmed, clutching the Bassmaster Ray Scott Trophy. "What more can you say about this awesome bait? It's a fish catcher. I'm always comfortable fishing with it. Was confident with it, actually, long before Z-Man even sponsored me.
"There's a lot of Jerk ShadZ style baits out there, but the Z-Man stuff is extra buoyant," he explains. "Underwater, the soft minnow just hovers in a natural horizontal position--that's a big deal," he explains. "I caught all my fish on it last time here and I caught all my fish on it at the Classic."
Shaking his head in amazement, Gussy confesses: "If you're fishing this place, you better get some of those baits in your boat if you want to catch smallmouths."
Among Z-Man's remarkable lineup of ElaZtech superplastics, the Scented Jerk ShadZ exhibits erratic baitfish action and advantages unique among soft jerkbaits. Naturally buoyant, ultrasoft and unexpectedly durable, the Jerk ShadZ is juiced for incessant bass bites. Imbued with 100-precent natural ProCure Super Gel, the Bassmaster Classic winning bait is offered in three sizes (4", 5" and 7") and nearly 40 colors.

(Photo by James Overstreet / B.A.S.S.)
COMING SOON: Gussy discusses 'Hanging-a-Minnow' technique in depth.